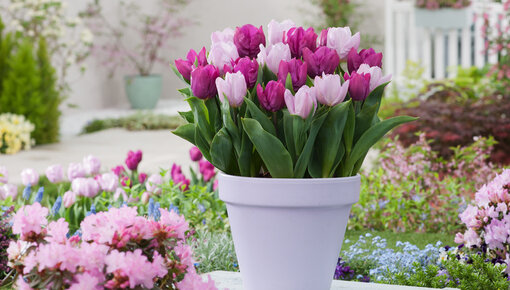 Flower bulbs
When the first green tips of the spring-flowering flower bulbs appear above the ground again, everyone gets the spring fever. After the dark winter days, early spring bloomers give a beautiful spring image.
Read more
The function of flower bulbs in your garden
Flower bulbs are the epitome of spring and bring an explosion of color and life to your garden. These versatile plants not only add beauty and cheerfulness to your outdoor space, but also have an important ecological function. They provide bees, butterflies and other pollinators with valuable nectar and contribute to the biodiversity in your garden (and beyond).
The joy that flower bulbs bring
Planting bulbs in your garden is like sowing joy. As soon as the days get longer and spring arrives, there is a feast of colors and scents. Tulips, daffodils, crocuses and other flower bulbs bring your garden to life after the cold winter months. The colored and fragrant flowers are beautiful and bring a smile to your face.
Common types of flower bulbs
Tulips (Tulipa): Tulips are probably the most famous flower bulbs and come in an endless variety of colors and shapes.
Daffodils (Narcissus): With their cheerful yellow or white flowers, daffodils herald the beginning of spring.
Crocuses (Crocus): Crocuses are one of the first bloomers in spring and provide a cheerful sight with their diverse colors.
Planting time and care of flower bulbs
The ideal time to plant flower bulbs is in the fall, before frost sets in. Here are some care tips:
Planting depth: Most bulbs should be planted two to three times their height.
Soil type: Provide well-draining soil to avoid waterlogging.
Maintenance: After flowering, you can remove the wilted flowers, but leave the foliage until it turns yellow, as this stores energy for the following year.
Enrich your garden with enchanting flower bulbs
Turn your garden into a colorful and lively paradise with our diverse collection of flower bulbs. Whether you choose a single species or a mix of flowers, the enchanting bloomers will transform your garden into an oasis of joy and beauty.
With flower bulbs in your garden you can enjoy a beautiful display of colors every spring. Take inspiration from our extensive selection and start planting these enchanting bloomers to fill your garden with joy and delight. Order today and get your garden ready for a spectacular flowering season!