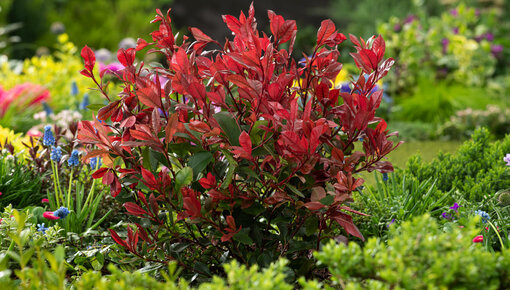 Garden plants
Discover the pleasure of gardening and the importance of a green oasis in the garden or balcony. Be surprised by the convenience of home delivery and our careful packaging: fresh from the grower to your garden.
Read more
The pleasure of gardening and a green garden
Gardening is not only a wonderful hobby, but also a source of joy and relaxation. Creating a green oasis in your own backyard offers you a retreat from the daily hustle and bustle and a place to enjoy the natural beauty. A green garden has countless benefits, including promoting biodiversity, reducing stress and improving air quality. In addition, you can decorate your garden to your own taste with a variety of garden plants that add color, texture and fragrance to your outdoor space.
Easy home delivery and careful packaging
Buying garden plants from us is an effortless experience. You no longer have to carry heavy plants, because we are happy to deliver them to your home. Our garden plants are picked up fresh from the grower, so you are assured of healthy and vigorous specimens. We package your plants professionally and securely for shipment so that they arrive in excellent condition.
Common types of garden plants
Rhododendron (Rhododendron): A popular choice for its beautiful flowers in a variety of colors and evergreen foliage.
Lavender (Lavandula): A favorite for its lovely scent, purple flowers and ability to attract butterflies and bees.
Hydrangea (Hydrangea): With its large, spherical flowers in different shades, the hydrangea is a classic garden plant that gives your garden a romantic look.
Butterfly bush (Buddleja): A beloved plant for its appeal to butterflies and bees with its fragrant flowers in a variety of colors such as purple, pink and white.
Coneflower (Echinacea): This perennial with showy flower heads not only attracts bees and butterflies, but also adds a cheerful note of color to your garden in shades of pink, purple and white.
Japanese Maple (Acer palmatum): A beautiful ornamental shrub with delicate leaves in different shapes and colors that transforms your garden in autumn with a beautiful play of colors.
Enrich your garden with beautiful garden plants
Create your own green paradise with our diverse collection of garden plants. Whether you like colorful flowers, evergreen shrubs or fragrant herbs, we have something for everyone. Discover our range and add a touch of natural beauty to your garden.
Enjoy the convenience of home delivery and our careful packaging, so you can enjoy your new garden plants without any worries. Order today and let your garden, balcony or terrace bloom!