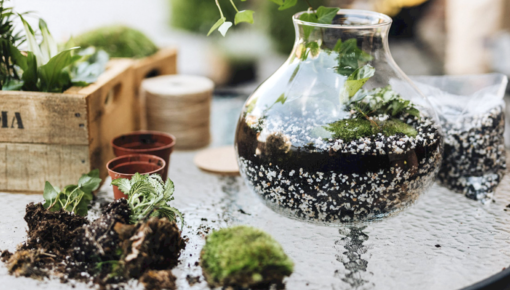 This is how you make your own plant terrarium
The planting terrarium, in other words: one or more plants in a glass jar that take care of themselves. A super fun activity to make with your green friends. This project takes about two to three hours.
This is how you make your own plant terrarium
What do you need?
A glass jar, small stones or gravel, earth, charcoal, tweezers, decorative elements (optional), a plant spray (optional) and of course the nicest little plants from Florastore.


The first step is, of course, choosing the plants. Not all plants are suitable for a terrarium. First of all, the plants must of course fit in the pot you choose, in addition, they must also be able to live well in a humid environment. When you want to use succulents, it is important to use a pot with one or more openings. This allows the succulents to dry sufficiently in between.


Step 2: Choosing a pot/vase
The second step is to choose a pot or vase. If you choose a pot, it means that you are going to make a self-sufficient terrarium, because it is closed. A vase is open and is therefore more suitable for plants that need dry environments and fresh air. In addition to a pot and a vase, you can also opt for a small greenhouse.


Step 3: Filling the terrarium
Time to fill the terrarium! Here you will make three layers. First you make a layer with stones, this may be about 4 centimeters. This allows the excess water to drain. Then you make a small layer with charcoal. Then you make a layer of soil, this is the thickest layer of the three. Make some holes in the soil where you want the plants to be. Now you have filled about a third of the vase or jar.


Step 4: Place plants
Now comes the fun part: placing the plants. Remove the plants from the plastic pots and remove the excess soil from the roots. We recommend placing the largest plants first and then the small ones as a supplement.


Care
Now that your plant terrarium is finished, you must of course maintain it. Do you have a closed terrarium? Then check the plants every now and then. If they hang limp, they need water. Also feel if the soil is slightly moist. Do you have an open terrarium with green plants? Then it is best to water once a week. Do you have an open terrarium with cacti? Then you can water once a month.