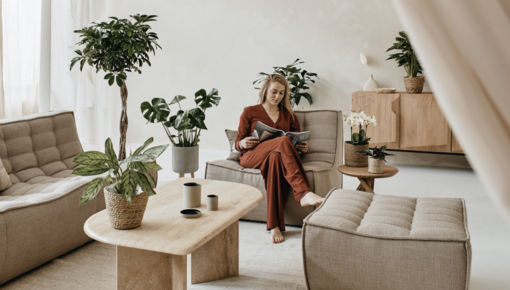 The best plants for stress
Have you been stressed a lot lately? Or are you in a bit of a dip? We have the solution for you!
The best plants for stress
There are a number of houseplants that will make you less stressed. Just looking at these plants seems to reduce stress. And what's even nicer, you can easily order these plants online from the couch and they will be delivered to your home with care.
Monstera
The Monstera, also called the hole plant, has beautiful leaves that you could look at for hours. This plant has a natural and soothing feeling. What is also nice is that the Monstera does not require much care. You can read tips about caring for the Monstera here.


The Banana Plant
The Musa is a plant that is known for its large leaves and is also called the banana plant, banana tree or dwarf banana. This tropical plant immediately gives your interior a summery atmosphere. So it makes sense that he lowers your stress. Sit next to the Musa and try to imagine that you are on vacation. Relax, look around you and enjoy. You can read tips about caring for the banana plant here.


Palm
The palm is very popular at the moment. Besides being one of the best air purifiers, it also seems to reduce stress. A palm is very easy to care for. Because the palm originally grows in sunny areas, it will also grow faster indoors in a sunny position. You can read tips about caring for the palm here.


Large Cactus
Watching a large cactus also has the effect for us that we relax more. This may be because a cactus is generally associated with warm places. Go for extra large cacti to lower your stress level as much as possible. You hardly have to look at this plant, you can read tips about caring for the cactus here.