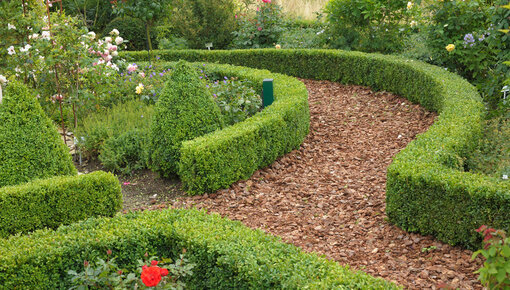 Hedge plants
Hedge plants bring order and structure to your garden. By planting them in a row you make a beautiful hedge. Some varieties also look great alone in a pot.
Read more
The usefulness and beauty of hedge plants in your garden
Hedge plants are not only a practical choice for creating privacy (in larger species) and structure in your garden, but also an aesthetic addition to the landscape. Make straight lines or round shapes.

With our diverse collection of hedge plants, including boxwood, Ilex and small conifers, you can create green lines that are both functional and visually appealing. Hedge plants also provide shelter for birds and other animals, reduce noise pollution and provide a green backdrop that lasts all year round.
Common types of hedge plants
Boxwood (Buxus sempervirens): A classic hedge plant known for its dense and tight growth, making it perfect for formal hedges.
Ilex (Holy): With its fresh colors and red berries, Ilex adds a splash of color and life to your garden, especially during the winter months.
Thuja (Tree of Life): Small conifers such as Thuja are excellent choices for a green hedge, which grow quickly and are easy to prune to shape.
Planting time and care of hedge plants
The ideal time to plant hedge plants is when the soil is moist and the plants can root before the growing season begins. Here are some care tips:
Watering: Make sure you water the young hedge plants regularly (in the evening), especially during hot and dry periods.
Pruning: Hedge plants should be pruned regularly to maintain a dense hedge shape and to promote healthy growth.
Fertilization: Use a balanced fertilizer to stimulate the growth and vitality of your hedge plants.
Protection: Protect your hedge from strong wind and frost to prevent damage.
Enrich your garden with beautiful hedge plants
Create a green and atmospheric environment in your garden with our diverse collection of hedge plants. Whether you are looking for a formal boxwood hedge, a colorful Ilex or a fast-growing Thuja hedge, you will find the perfect hedge plants for your garden with us.
Boxwood
Specially highlighted is the boxwood, known for its strong colors and a topper among the hedge plants. It stays green all year round. Because of this property and the slow growth, this plant is extremely suitable for pruning it into all kinds of beautiful shapes. Provided it is kept in a good shape, the boxwood forms a beautiful decoration for any garden. From complete hedges to separate elements in pots, let your imagination run wild and transform your garden into a true castle garden.
Our high-quality hedge plants will transform your garden into a beautiful and functional landscape. Order today and start creating your ideal green hedge!