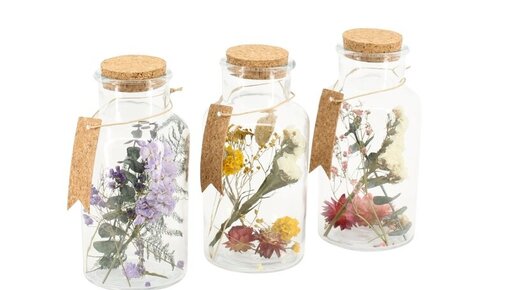 Dried flowers
Discover the magic of these beautiful dried flowers that bring lasting beauty, natural colors and elegance to your interior.
Read more
The benefits of dried flowers in your interior
Dried flowers are a sustainable and stylish choice to decorate your interior. Unlike normal flowers, dried flowers retain their beauty and color without the need for water. This keeps them attractive for months or sometimes years, meaning you can enjoy their splendor for a long time.
Suitable locations for dried flowers
Dried flowers can be placed in different places in your interior to add a touch of natural beauty. They are perfect for areas where normal flowers are difficult to maintain, such as in window sills. In addition, dried flowers are wonderful decorative elements in living rooms, bedrooms, offices and open cupboards. Their timeless look fits well with both modern and classic interior styles.
Flowers used in our dry bouquets
Our stylish dry bouquets have been carefully put together to create a warm and atmospheric ambiance in your home. We use a variety of flowers, such as dried roses, lavender, delphiniums, gypsophila, wheat spikes, and many other beautiful flower types. Each flower has been carefully selected to form a harmonious whole that is both aesthetic and sustainable.
Add enchanting dried flowers to your interior
With our dried flowers you can enrich your interior in a unique way. The beauty of dried flowers remains intact and requires little or no maintenance, so you can enjoy their charm for a long time. Wherever you place them, dried flowers add a touch of natural splendor to any room.
Discover our beautiful collection of dried flowers and let your interior shine with timeless elegance. With high-quality dried flowers you can bring the beauty of nature into your home, without any effort. Order today and give your interior an enchanting and lasting accent of natural beauty!