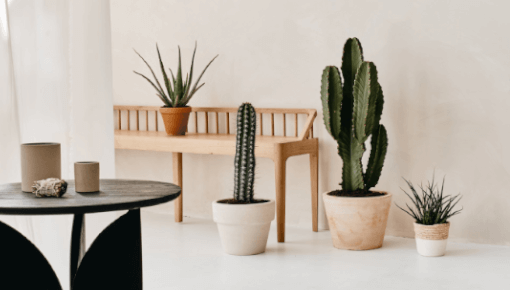 Whether it's the trendy geometric shapes or the untouchable aura, Cactus is an exciting living plant that has great impact in an interior and often generations long sympathize with his owners. The comeback of this classic lies mainly in the fact that it is a very easy house plant and the distinct look, which fits well with people who love special designs.
care
Cacti care is simple. To get the plants every year well in bloom, it is best to add a little more water in the summer and less in winter. This is partly dependent on the kind and the size of the plant.
Too much water is not good, it is better to let the soil dry out, to give the plant water again.
In summer, a cactus can be warm and sunny, even outside on patio or balcony. In winter the place cooler and light. This dormancy in winter helps the cactus to bloom in spring.
If the plant should be repotted use a rather poor soil. Special cactus soil is above the market for sale.
Place the plant in a safe place where children or pets are present.