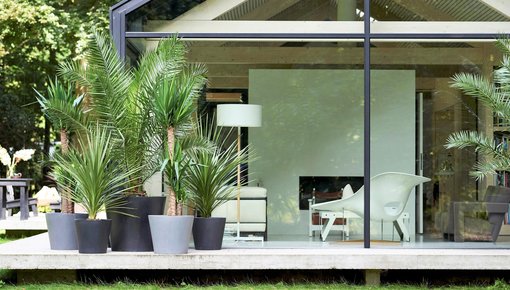 Outdoor terrace and balcony plants
Terrace and balcony plants determine the atmosphere for outdoors. Match shades of flowers, flower pots and garden furniture. In this way you create peace.
Read more
Imagine stepping onto your terrace or balcony, greeted by a burst of vibrant colors and the soothing presence of nature. At FloraStore, we believe that your outdoor space should be a reflection of your personality, a place of relaxation. That's why we offer a stunning selection of garden plants and trees that are perfect for potting. Whether you're looking to add a touch of greenery to your balcony, brighten up your front entrance, or transform your terrace into a paradise, our potted plants are here to help you achieve your vision.
Improve your terrace
Your terrace is an extension of your living space, and it deserves just as much attention when it comes to decor. Our range of potted garden plants is handpicked to thrive in containers, making them the ideal choice for adding depth and beauty to your terrace. From lush ferns to elegant palms, we have a variety of options to suit every taste and style.
A warm welcome at your doorstep
Make a lasting impression on your guests by adorning your front entrance with potted trees and plants. A well-placed pot with a burst of colorful flowers or a miniature tree can instantly elevate your curb appeal. It's not just about making your home look inviting; it's also about creating a warm welcome that sets the tone for what's inside.
Relaxation on your balcony
Even if you have a small balcony, you can still enjoy the soothing presence of nature. Our compact potted plants are perfect for balconies of all sizes. Whether you prefer a cozy corner with aromatic herbs or a colorful array of flowers, our selection of balcony-friendly plants will help you create a tranquil and enjoyable space.
Seasonal plants for your patio table
Your patio table is not just for dining; it's also an opportunity to showcase your love for plants. Choose from our range of smaller potted garden plants to create a seasonal centerpiece that changes with the time of year. From spring's bright blossoms to autumn's warm hues, there's always a perfect plant to complement your outdoor gatherings.
Why choose FloraStore?
At FloraStore, we are committed to providing you with the highest quality potted garden plants and trees. Our plants are carefully selected to thrive in containers, ensuring they will flourish in your outdoor space. We also offer a variety of pot options to match your style, from classic terracotta to modern and sleek designs.
Our team of experts is always available to answer your questions and provide guidance on plant care and placement. We want your experience with FloraStore to be not only enjoyable but also successful in creating the outdoor oasis you've been dreaming of.
Transform your outdoor space into a haven of beauty and relaxation with potted plants from FloraStore. Explore our collection today and let your creativity bloom.