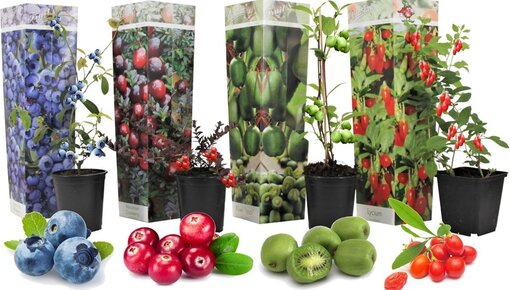 Fruit trees
Discover the joy of small fruit trees in your garden! Not only are they a colorful addition to your garden or balcony, but they also provide food for you and/or nature.
Read more
The enjoyment of small fruit trees in your garden
Having small fruit trees in your garden brings countless benefits, both for you and for nature. You can enjoy delicious, fresh fruits straight from your own garden, and the presence of fruit trees also attracts birds, bees and butterflies, which contributes to biodiversity. In addition, they add a charming and productive element to your outdoor space, which you can enjoy both visually and culinary.
Common types of small fruit trees
Strawberries (Fragaria): Strawberries are a classic choice for small fruit trees. They can be grown in pots or in the ground and offer deliciously sweet fruits.
Blueberries (Vaccinium corymbosum): Blueberries are not only tasty but also rich in antioxidants. They thrive in acidic soil and make an attractive shrub.
Raspberries (Rubus idaeus): Raspberry bushes yield juicy berries and often have a long harvest window, allowing you to enjoy their fruits for much of the season.
Planting time and care of small fruit trees
The best time to plant small fruit trees is when the soil is moist and well-draining. Here are some care tips:
Location: Choose a sunny spot with good drainage for your fruit trees.
Watering: Keep the soil evenly moist, especially during dry spells and when establishing saplings.
Pruning: Regular pruning promotes healthy growth and a good harvest.
Protection: If desired, use netting or other protection to keep birds and other animals away from your ripening fruit.
Enrich your garden with tasty little fruit trees
Let your garden bloom and flourish with our diverse collection of small fruit trees. Whether you enjoy juicy strawberries, healthy blueberries or sweet raspberries, you can now grow your own fruit. Discover our range and add a delicious and useful dimension to your garden.